Hospital Reflux Wedge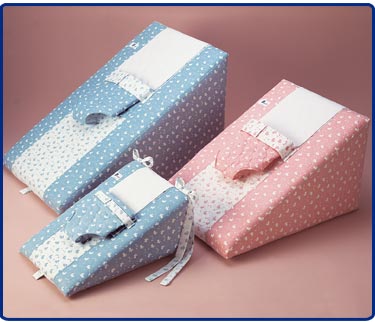 Designed specifically for infants with gastroesophageal reflux. High density, fire retardant foam covered in Staph-Check® vinyl. Available in blue or pink in our exclusive,
adorable bunny print. Quilted cover zips off
easily for washing.
Available in sizes for preemies and infants up to 30 pounds.
Bassinet #7358
Extra Small #7359
Small #7360
Medium # 7361
Large #7362
If you have the ability to incline your mattress
to a 30° angle, the Reflux Sling will keep baby secure and keep him from sliding down the crib. Made of quilted fabric for patient comfort and durability. The sling comes in pink or blue and
ties easily to the crib bars. Machine washable.